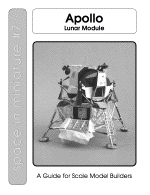 The newest volume in the Space In Miniature series treats the Lunar Module with all the documentation you will need to build an accurate scale model of any of the nine manned LM missions. A brief program history is provided plus a narrative description of the configuration changes that occurred mission by mission. There is also a comprehensive kit list, kit reviews, and an illustrated article on how to detail the Monogram 1/48th scale kit.
"Apollo Lunar Module" has 49 pages of articles, scale drawings, photos, kit reviews, and modeling info. The book includes multi-view drawings of the color pattern (thermal blankets and panels) variations for each of the missions from Apollo 9 thru 17. A description of the actual materials used on the Lunar Module is included to provide some background on what you might be trying to reproduce in miniature. Additional drawings from NASA technical manuals, researcher/modeler David Weeks, and the author provide a detailed reference work for the serious scale model builder and space history enthusiast. See the Apollo references section of this website for some on-line info that complements the printed volume. Additionally, there is are a couple of pages of links, starting here, to color versions of all of the photos used in the book.
This volume was released in September 2007. The book is printed on high quality coated paper and is shipped via first class mail.

$10.00 plus shipping